Little House Learning Co.
• Chores • Habits • Preschool • The Early Years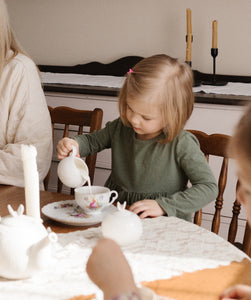 When you're a homeschooling family, you are likely at home 5 times more than the average family. For us, that means a lot more mess! More dishes, more dirty, more laundry and much more to pick up; it seems to come as a package. To alleviate this some, we practice and teach independence skills from a very young age. If the youngest child can help himself with basic needs, that frees up mom. It also lays a foundation for helping with chores and grows his confidence as a helper. Here are the basic things we do (and use: link to...
---
• Ambleside Online • First Grade • homeschool • Scheduling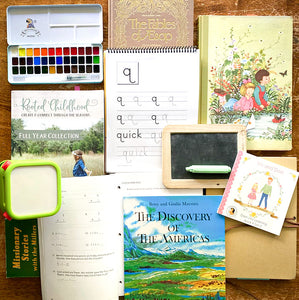 We are in full swing with our First Grade year! I get asked often about what we're using for different subjects, so I figured I would list it out here!  The spine of our curriculum is Ambleside Online Year 1. This curriculum covers many of our subjects, but some of them I substituted for alternatives.  Our 1st Grade Curriculum Bible: AO has Bible readings listed out, but I substituted our own alternative of The Child's Story Bible by Vos because we were in the middle of it last year and enjoyed it so much we decided to finish it! We are also making our...
---
• First Grade • Homeschool • Outdoor Play • Scheduling • The Early Years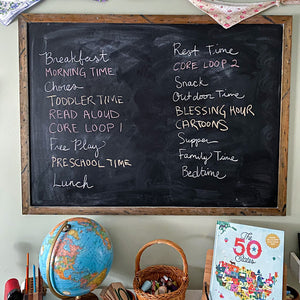 When I first started homeschooling, or even considering homeschooling, the most helpful blogs posts were those that laid out the homeschooling day, step by step. I felt like I could finally grasp how this homeschooling life could actually work! Managing three kids, schooling, housework, side jobs and everything else can be a lot some days, but a daily rhythm keeps my sanity. What is homeschooling like? Each day is different, so that's why we call it a rhythm, rather than a schedule. Attitudes, visitors, and a plethora of interruptions can change our plans at a minutes notice, so flexibility is...
---
• homeschool • Hygge • winter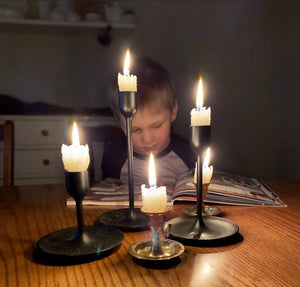 If you're like me, the time between Christmas and Easter is like one giant roadblock. The holidays are over, deep winter has set in, and the end of the school year looks miles and miles away. But I consider it an opportunity to cozy down and press into the comforts of home! What is hygge? Hygge (pronounced hoo-gah or hue-gah) is a Danish term that encapsulates the feelings of comfort, home, coziness, contentment and well-being. This time of year, I feel the internal pull to these ideals more than ever. Here are the ways we bring that cozy, comforting feeling...
---
• Frugal Living • Outdoor Gear • Outdoor Play • winter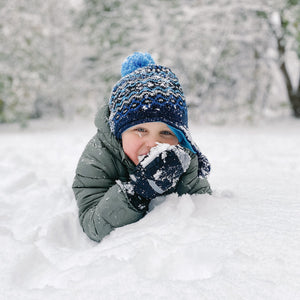 Time outside in nature is one of the pillars of most philosophies of home education. Charlotte Mason recommended children spend 4-6 hours outside DAILY! While she lived in a very temperate climate, there are many countries with extreme variance in weather where children and adults spend very large amounts of their life outside! Recently, I read the book "There's No Such Thing as Bad Weather: A Scandinavian Mom's Secrets for Raising Healthy, Resilient, and Confident Kids" by Linda Åkeson McGurk and was incredibly inspired. In her book, Linda beautifully lays out all the myriad of benefits to spending time outdoors, and de-stigmatizes being...