• Bible • DIY • Easter • Intentional Celebration • Motherhood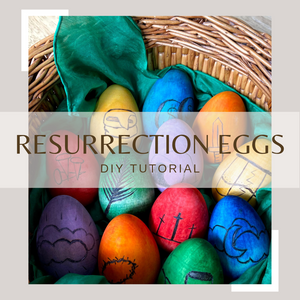 When I was a child we made resurrection eggs at church out of egg cartons and plastic eggs. I wanted to recreate this experience for my children but wanted the eggs to stand up to many years of wear and use. When I saw these wooden eggs, I knew they were exactly what I was looking for! I made these three years ago and they're still my favorite! Each day we hide one egg around the house. Once the kids find the egg we read the corresponding scripture as part of our Easter school. Here's how you can make your own. Supplies...
---
• Hygge • Intentional Celebration • Outdoor Play • winter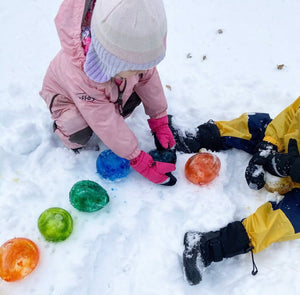 So much of the wonder of childhood is wrapped in celebration and surprise. One of my favorite days of celebration and surprise for our kids is a snow day! I still have a deeply romanticized and nostalgic place in my heart for snow days from growing up going to public school. But, even though my children stay home, snow days are still full of magic. Some families choose to celebrate the first snow, others might choose to wait for a big snow or blizzard to celebrate, and if you're in a warm climate you might choose to celebrate an alternative version of...
---
• Intentional Celebration • Motherhood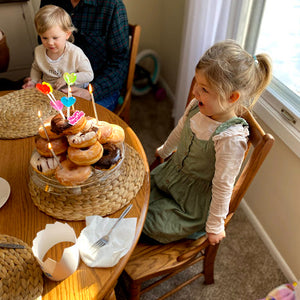 There is something about celebrating the birth of your child. Usually, I'm not about curating an environment or "moment" for my kids, but on their birthday, I do everything I can to make it feel special and set apart from every other day. I'm tempted to throw a huge, expensive Pinterest-perfect party but most children enjoy intentionality, simplicity and tradition a lot more than a perfectly styled tablescape. Here's a quick list to get you thinking of ways to make your child's birthday as magical as it can be, while keeping things simple: Starting the Day with a Celebratory Birthday Breakfast...
---
• Bible • Intentional Celebration • Motherhood • winter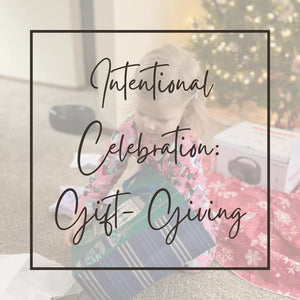 It's the holiday season (echo: "The holiday season!") around here and like it or not, toys are on the brain. Every year I feel like I'm scrambling a little bit, and asking myself what gifts we should get our kids this year and how can we make gift receiving meaningful. Christmas is such a special holiday to celebrate and magnify the most wonderful gift of Jesus Christ, our savior and while we highlight this throughout the advent season, Christmas morning is also a unique time to remember why we're giving to one another. There are many ideas out there, but...
---
• homeschool • Intentional Celebration • Motherhood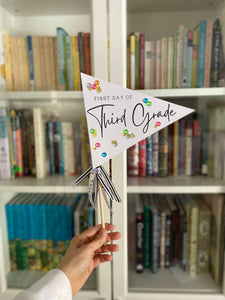 Our first day of school is coming up, and if you know me, you know I love celebrating this day! When I was a child, I would lay out my new school clothes and pack my backpack WEEKS before school started. I loved the feeling of a brand new, clean notebook (still do)!  With homeschooling, I want to offer my children this experience too, even if its not quite the same. Here is how we celebrate! First Day of School Traditions First Day of School Gifts Since we don't buy back-to-school supplies in the same way (we usually get books,...